Casio Music New Zealand
CT-S300
The ultra-compact CT-S300 lets you make music wherever and whenever you want. Just pop in six AA batteries, grab the built-in carrying handle and take your inspiration to go. *Includes power supply and music rest.
Features
61 Keys 
Touch Response: 2 Sensitivity Levels
Maximum Polyphony 48
400 Built-In Tones
77 Built-In Rhythms 
Downloads
Keyboard

61 standard size keys

Touch Response

2 sensitivity levels, off

Maximum Polyphony

48

Tones

Built-in tones: 400

Digital Effects

Reverb: 1 to 10, off

Metronome

Beats per measure: 0 to 16
Tempo range: 20 to 255

Song Bank

Built-in songs: 60
Part off function: left-hand, right-hand, both-hand

Auto Accompaniment

Built-in rhythms: 77

Dance Music Mode

Built-in patterns: 50
Dance Music Voice: 12

Other Functions

Transpose: ±1 octaves (-12 to +12 semitones)
Tuning: A4 = 415.5 to 465.9 Hz (Initial default: 440.0 Hz)
One Touch Preset: 77
Sustain button
LCD display (adjustable contrast)
MySetup : 1

APP Function

Chordana Play

MIDI

16 multi-timbre received, GM Level 1 standard

Pitch Bend Wheel

0 to 12 semitones

Input/Output Terminals

PHONES/OUTPUT jack: Stereo mini jack (3.5mm)
AUDIO IN jack: Stereo mini jack (3.5mm)
USB port: micro B
PEDAL jack: Standard jack (6.3mm) (Pedal sustain, sostenuto, soft, start/stop)

Power Jack

9.5V DC

Power Supply

2-Way Power

6 AA-size alkaline batteries or AA-size rechargeable nickel metal hydride batteries, Continuous operation: approximately 19 hours (alkaline batteries), approximately 15 hours (rechargeable nickel metal hydride batteries)

*

, actual battery life may be shorter depending on battery type, performance style, or operation environment; AD-E95100L AC adaptor (JEITA Standard, with unified polarity plug), 30-minute Auto Power Off (Can be disabled.)

Measured values while using eneloop batteries. eneloop is a trademark of Panasonic Corporation.

Speakers

13cm x 6cm (oval) x 2 (Output: 2.5W + 2.5W)

Power Consumption

5.5 W

Dimensions

93.0 (W) x 25.6 (D) x 7.3 (H) cm

Weight

Approximately 3.3kg (Excluding batteries)

Included Accessories

Music stand

EAN code

4971850314950
Music score and piano roll notation make it fun and easy to learn!
Chordana Play displays the music score and piano roll notation for built-in songs and MIDI files. With MIDI files, you can select which tracks to play with your left and right hands, or you can assign the melody to the right-hand and chords generated by the app to your left-hand. Slow the tempo down, transpose to a key that is easier to play, and with the AB repeat function, take lessons (practice) at your own pace.
You can take three-step lessons using either the app's keyboard or a USB-connected musical instrument keyboard. Select from 128 kinds of tone quality. Plus, a scoring system lets you keep track of your progress.
Use the 50 built-in songs or import standard MIDI files
Play one of the 50 songs included in Chordana Play, or add MIDI files.
Chordana Play can generate a music score from the MIDI file and detect chords, too, making it easy to learn to play two-handed piano pieces. You can search for and download MIDI files using the browser on your smartphone or tablet, then import them directly into Chordana Play. You can also import MIDI files from your computer to Chordana Play.
*A music scores from the MIDI file is generated automatically, and therefore the score shown may differ from the original music score.
Practice anytime and anywhere
Using either the app's keyboard or a USB-connected musical instrument keyboard, you can take a three-step lesson while following the music score and piano roll. The scoring feature makes mastering a song even more fun.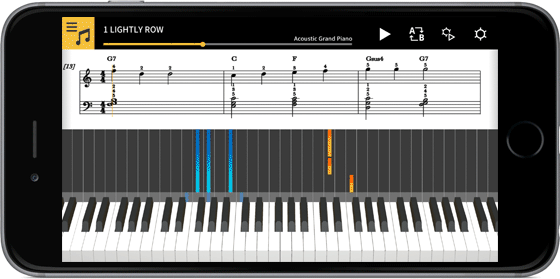 Connecting a musical instrument to your smart device
 - Supported CASIO Keyboard models
CT-S200, CT-S195, CT-S300, LK-S250
- What is needed for connecting and the connection method used
See here for more details on connections.

・Do not connect a USB cable and audio cable to the smart device at the same time.
・Set the connected smart device to a mode that prevents mobile data communication, such as In-Flight mode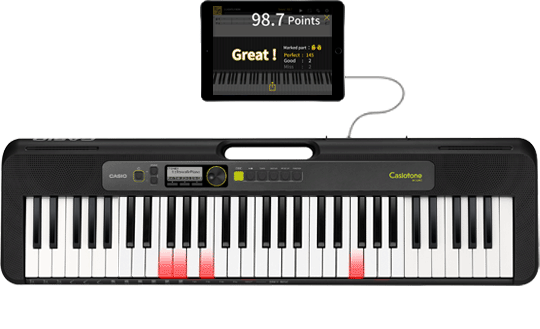 Keyboard Link
- Supported CASIO Keyboard models
LK-265, LK-266, CTK-2500, CTK-2550, and CTK-3500
- Stereo mini to stereo mini cable required.
The keyboard link function enables you to use an audio cable to send melody and chord data along with the audio playback. Use the keyboard's light-up function and practice step-up lessons directly on the keyboard itself. The function has two modes.

- Performance mode
When a song is played, the light-up keyboard shows the left-hand part and the melody. The notes and chords for the melody are shown on the keyboard's LCD.

- Save mode
You can transfer and save the song's right-hand melody and left-hand chord data, or the left-hand performance data, to the keyboard. You can then play along to the song and use the step-up lesson function.
・Song audio is sent using the left channel of the smart device stereo output, while the melody and chord data is sent on the right channel.
・On the CTK-2500, CTK-2550, and CTK-3500, notes and chords for the melody are shown on the LCD
♦ If using right-hand (melody) and chord data, up to approximately 880 notes of the right-hand part can be transferred to the keyboard, assuming two chords per measure for 200 measures.
♦ If using right-hand (melody) and left-hand (accompaniment) data, up to approximately 1100 notes can be transferred.
♦ If non-note MIDI data (patches, pedals, etc.) is included, this reduces the number of notes that can be transferred, leading to potential errors even if the approximate limit of 880 or 1100 notes is observed.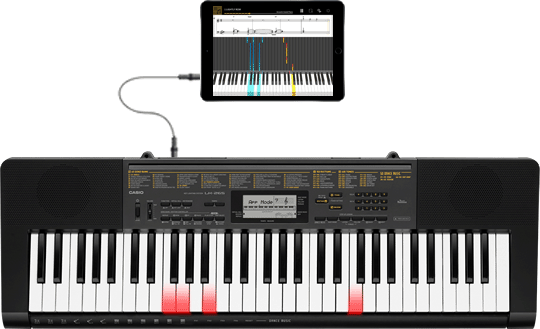 1980 - Casiotone 201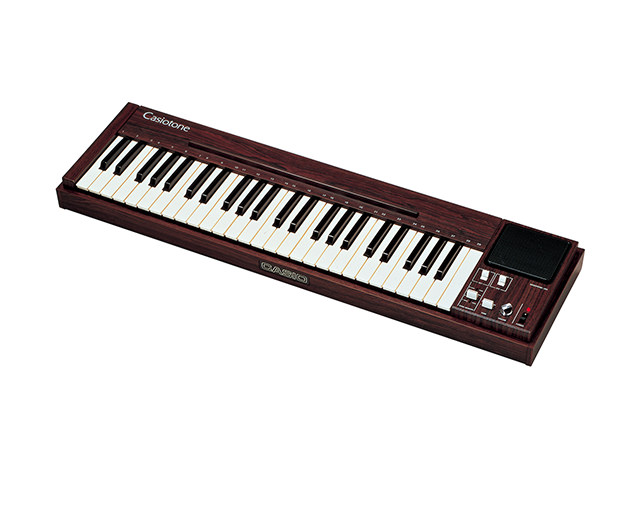 The first Casio electronic musical instrument, born of a wish to bring the joy of playing music to everyone
Learning to play more than one musical instrument was costly and time-consuming, and the electronic instruments of the time did not offer ease of operation either. In a bid to break through these barriers, Casio developed the compact, lightweight Casiotone 201 electronic keyboard with a built-in speaker to offer the enjoyment of playing a variety of different musical instruments with simplicity. This innovative instrument enabled the user to play the sounds of 29 different instruments on the keyboard. Hailed at the time as a "third type of instrument"—neither an electric organ nor a synthesizer—the model proved a good fit with society's predilection for richness of spirit and spread around the world in a flash, giving rise to a whole new way of enjoying music.