Casio Music New Zealand
CT-S1BK
Wherever you are on your musical journey, and no matter your budget, you shouldn't have to compromise on sound quality. Meet the CT-S1BK. Its modest price makes it the right choice for casual or beginning players, and thanks to the AiX Sound Source its stunning sound makes it a must-have for keyboardists of any level who need a portable instrument.
Features
AiX Sound Source
61 Keys
Touch Response: 3 Sensitivity Levels
Maximum Polyphony: 64
61 Built-In Tones
Downloads
Keyboard

Number of Keys: 61

Touch Response: 3 sensitivity levels, off

Sound Source

AiX

Polyphony: 64

Tones

61

ADVANCED TONES: 10

CASIO CLASSIC TONES: 12

Layer

2 (Upper1/2)

Sustain

Yes

Effects

Reverb: 24 (+Preset for each tone)

Chorus: Yes (Preset for each tone)

Delay: Yes (Preset for each tone)

DSP: Yes (Preset for each tone)

Master EQ: 10

Volume-Sync EQ

Yes

Surround

Yes

Metoronome

Yes

Songs

Demo Song: 1 + 10 (Piano demo)

My Set Up Function

Yes

Tone Memory Function

Yes

Transpose

-12 to 0 to +12 Semitones

Tuning

A4 = 415.5 Hz to 440.0 Hz to 465.9 Hz

Octave Shift

-3 to 0 to +3 Octaves

Scale Setting

Equal temperament + 16 variations

MIDI Recorder

Yes

Songs: 1

Memory Capacity: 40,000 notes

General MIDI

Yes

Connection to Bluetooth®

Bluetooth® MIDI/Audio: Yes (with optional adaptor)

Connection to App

Supported App: Chordana Play

Terminals

PHONES / OUTPUT: Stereo mini

PEDAL: Standard

AUDIO IN: Stereo mini

USB TO HOST: micro B

USB TO DEVICE: Yes *for WU-BT10 only

Strap Pin

Yes

Speakers

(13cm x 6cm) x 2

Horizontal Bass Reflex: Yes

Amplifiers

2.5W + 2.5W

Power Supply

AC Adaptor: AD-E95100L (DC 9.5V)

Battery: AA-size alkaline batteries x 6 or AA-size rechargeable nickel metal hydride batteries* x 6

Battery Life: Approximately 3 hours continuous operation

Actual continuous operation time may be shorter due to battery type, performance type, and usage environment.

* Measured values while using eneloop batteries. eneloop is a trademark of Panasonic Corporation.

Power Consumption

7.5 W

Dimensions

930x258x83(mm)

Weight

4.5kg

Included Accessories

Music stand, Strap lock

Optional Accessories (sold separately)

Pedals (SP-3, SP-20), Headphones (CP-16), AC adaptor (AD-E95100L), Wireless MIDI & Audio Adaptor (WU-BT10), Special stand (CS-2X), Benches (CB-7, CB-30BK, CB-30BN), Carrying case (SC-650B)

EAN code

CT-S1RD: 4971850315094
Music score and piano roll notation make it fun and easy to learn!
Chordana Play displays the music score and piano roll notation for built-in songs and MIDI files. With MIDI files, you can select which tracks to play with your left and right hands, or you can assign the melody to the right-hand and chords generated by the app to your left-hand. Slow the tempo down, transpose to a key that is easier to play, and with the AB repeat function, take lessons (practice) at your own pace.
You can take three-step lessons using either the app's keyboard or a USB-connected musical instrument keyboard. Select from 128 kinds of tone quality. Plus, a scoring system lets you keep track of your progress.
Use the 50 built-in songs or import standard MIDI files
Play one of the 50 songs included in Chordana Play, or add MIDI files.
Chordana Play can generate a music score from the MIDI file and detect chords, too, making it easy to learn to play two-handed piano pieces. You can search for and download MIDI files using the browser on your smartphone or tablet, then import them directly into Chordana Play. You can also import MIDI files from your computer to Chordana Play.
*A music scores from the MIDI file is generated automatically, and therefore the score shown may differ from the original music score.
Practice anytime and anywhere
Using either the app's keyboard or a USB-connected musical instrument keyboard, you can take a three-step lesson while following the music score and piano roll. The scoring feature makes mastering a song even more fun.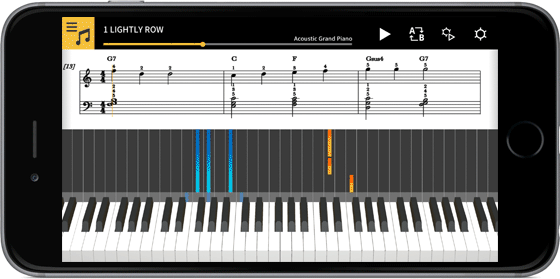 Connecting a musical instrument to your smart device
 - Supported CASIO Keyboard models
CT-S200, CT-S195, CT-S300, LK-S250
- What is needed for connecting and the connection method used
See here for more details on connections.

・Do not connect a USB cable and audio cable to the smart device at the same time.
・Set the connected smart device to a mode that prevents mobile data communication, such as In-Flight mode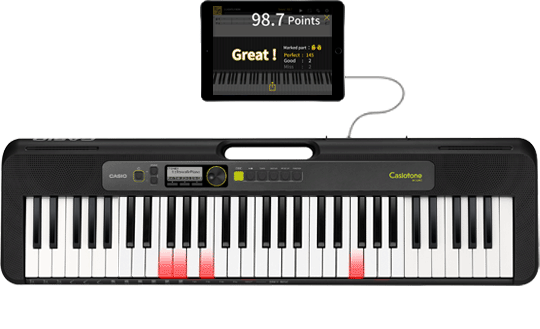 Keyboard Link
- Supported CASIO Keyboard models
LK-265, LK-266, CTK-2500, CTK-2550, and CTK-3500
- Stereo mini to stereo mini cable required.
The keyboard link function enables you to use an audio cable to send melody and chord data along with the audio playback. Use the keyboard's light-up function and practice step-up lessons directly on the keyboard itself. The function has two modes.

- Performance mode
When a song is played, the light-up keyboard shows the left-hand part and the melody. The notes and chords for the melody are shown on the keyboard's LCD.

- Save mode
You can transfer and save the song's right-hand melody and left-hand chord data, or the left-hand performance data, to the keyboard. You can then play along to the song and use the step-up lesson function.
・Song audio is sent using the left channel of the smart device stereo output, while the melody and chord data is sent on the right channel.
・On the CTK-2500, CTK-2550, and CTK-3500, notes and chords for the melody are shown on the LCD
♦ If using right-hand (melody) and chord data, up to approximately 880 notes of the right-hand part can be transferred to the keyboard, assuming two chords per measure for 200 measures.
♦ If using right-hand (melody) and left-hand (accompaniment) data, up to approximately 1100 notes can be transferred.
♦ If non-note MIDI data (patches, pedals, etc.) is included, this reduces the number of notes that can be transferred, leading to potential errors even if the approximate limit of 880 or 1100 notes is observed.